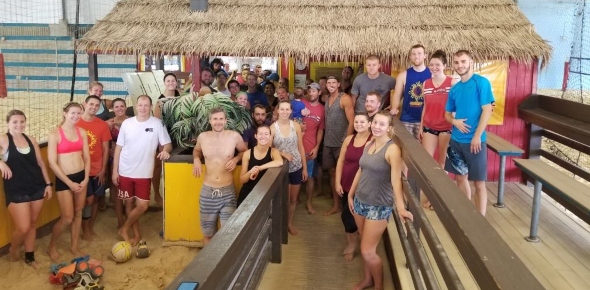 Now featuring indoor courts!
Setters Features
We Offer both Indoor and Outdoor Beach Volleyball All Year!!!!
Setters Cincy on Beechmont Ave. offers Doubles, Quads, and Sixes Sand Volleyball.
We have great daily drink specials! Check them out. $1.50 drafts on Mondays.
Leagues available Monday through Friday and NOW SUNDAYS!
Court Registration available for Adult League Players: $35 for a 2 1/2 hour time period. Available times: Monday - Friday 12-2:30, 2:30 - 5. Saturday 12 - 2:30, 2:30 - 5, 5 - 7:30. Sunday 12:30 - 3:00. Reservations must be made at least 24 hours in advance of the chosen time. Contact (513) 560-6356 or (859)801-3952 to reserve.
Try our famous BBq Chicken Pizza and Smothered Mushroom Hoagies.
Great place to hang with friends and family. We even have a sand box for the kids.
All sessions: $60 a player for 7 week sessions. $65 a player for 8 week sessions; $70 a player for 9 weeks sessions We give out Setters Graphic T-shirts to Winners
Setters Lounge
Before and after your match, you can hang out in the bar with satellite and big screens. Enjoy happy hour pricing early in the evening and take advantage of weekly bar specials. Great food, good friends and a relaxing summer atmosphere, where you can hang out in your flip-flops.
Upcoming Events
EVERYTHING BAGELS - Get registered by 4:30 p.m. $25.00 person (C League levels and above). Singles and Volleyball Players who dare, ditch your significant other and come out to hang with Setters. Smart players will bring their other half with. What better way to spend the silly Hallmark Holiday? :) It will be romantic. Bagel sandwiches for everyone. You can choose to be on the same team as your special friend or sign up single and go alone. Just let us know if you have a preference.
Bring your Irish drinking buddy or maybe just a friend who has a green t-shirt. It's that St. Patty's time of year. Wear your green or players will be pinching you all night. This is not a beginners tourney (B and above tourney). The concept is that if you bring a partner who is solid then it will be fun and good games for all.
Silly Triples. Trips are for kids. Setters Triples tourney. Must have one female. $25.00 a team. Must have three.