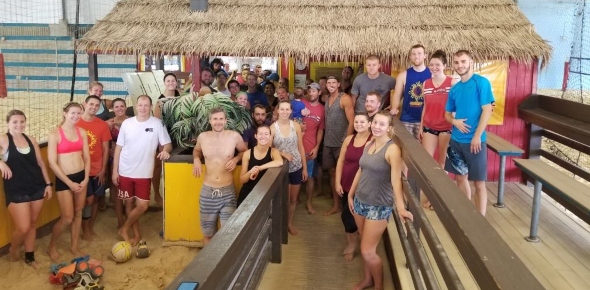 Now featuring indoor courts!
Setters Features
INDOOR SAND COURTS OPEN NOVEMBER 3RD, 2014.
Setters Cincy on Beechmont Ave. offers Doubles, Quads, and Sixes Sand Volleyball.
We have great daily drink specials! Check them out. $1.50 drafts on Mondays.
Leagues available Monday through Friday and NOW SUNDAYS!
Open Play on all courts at 12:00 p.m through 6:10. every day- Some availability on weekends.
Try our famous BBq Chicken Pizza and Smothered Mushroom Hoagies.
Great place to hang with friends and family. We even have a sand box for the kids.
Fall and Winter sessions S-F $65 a player, 8 week sessions. We give out Setters Graphic T-shirts to Winners
Setters Lounge
Before and after your match, you can hang out in the bar with satellite and big screens. Enjoy happy hour pricing early in the evening and take advantage of weekly bar specials. Great food, good friends and a relaxing summer atmosphere, where you can hang out in your flip-flops.
Upcoming Events
We're Back! I know this date is a little late, but Late is better than Never, when it comes to our favorite tournament of the year. The best part is that you can get your costume half-price the day after Halloween. Costume judging for Best costumes. Funniest, Sexiest, Scariest, etc. Coed Quad Lottery Style. Sign up individually $25.00 a person Fun, Games, etc. Pumpkin carving and apple bobbing.
Come out to celebrate with us on the Saturday before Thanksgiving. We will start at 4:00 p.m. Courts will be free all night, as long as you bring a canned good. When you turn in the canned good, we will give you a ticket. We have 100 t-shirts, free food, gift certificates, and 10 lucky people will play volleyball against Lou, Alan, Lynnette, and Heather to win a second session league fee for free. Players will be chosen that night at 6:30 p.m. and other prizes are drawn throughout the evening.
$25.00 per person. No vouchers. $500.00 for First Place. Hopefully everyone is in the giving spirit during this holiday season. We have been collecting coats during this indoor volleyball season to turn into Coats for Kids. We have been collecting canned food for the food pantry in Amelia. We have adopting families from Child Focus to get gifts to kids with our Giving Tree. Now, we would like to take $5.00 from this entry fee to put together Holiday dinners for families in the local area.
Most of you will have broken your New Year's Resolution's at this point, but we love you anyway. There is an award for the funniest representation of their New Year's Resolution. And we will putting a diaper on our first Baby New Year.