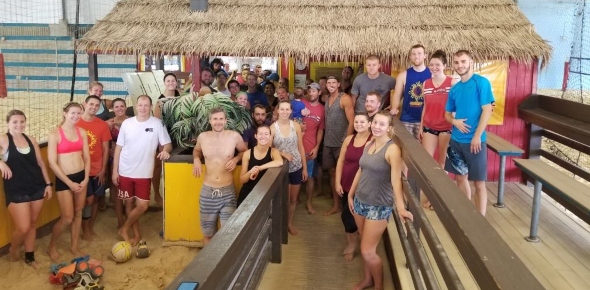 Now featuring indoor courts!
Setters Features
INDOOR SAND COURTS OPEN NOVEMBER 3RD, 2014.
Setters Cincy on Beechmont Ave. offers Doubles, Quads, and Sixes Sand Volleyball.
We have great daily drink specials! Check them out. $1.50 drafts on Mondays.
Leagues available Monday through Friday and NOW SUNDAYS!
Open Play on all courts at 12:00 p.m through 6:10. every day- Some availability on weekends.
Try our famous BBq Chicken Pizza and Smothered Mushroom Hoagies.
Great place to hang with friends and family. We even have a sand box for the kids.
Fall and Winter sessions S-F $65 a player, 8 week sessions. We give out Setters Graphic T-shirts to Winners
Setters Lounge
Before and after your match, you can hang out in the bar with satellite and big screens. Enjoy happy hour pricing early in the evening and take advantage of weekly bar specials. Great food, good friends and a relaxing summer atmosphere, where you can hang out in your flip-flops.
Upcoming Events
We're Back! Time for 1 of our favorite Lottery Tournaments. Dress up as your favorite Ghoul, Animate Cartoon, Movie Star or anything else. Rewards will be given for different categories. 4:30 registration. $25 a person. Time to have a blast!