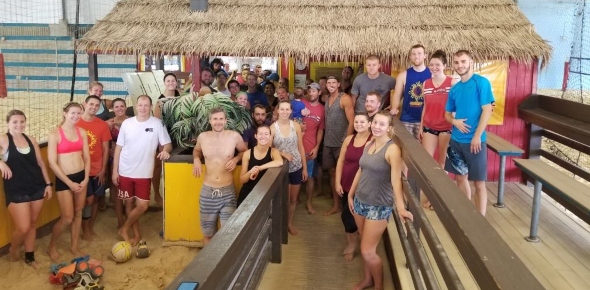 Voted Best Sand in Cincinnati
Setters Features
Best volleyball crowd in Cincy.
Check out tournament schedule for LOTTERIES, Bring Your Own Teams, and DOUBLES TOURNEYS.
We have great daily drink specials! Try an Angry Orchard or Bacardi Fusion Drink
Leagues available Monday through Friday and NOW SUNDAYS!
Open Play on all courts at 12:00 p.m through 6:10. every day- Some availability on weekends.
Try our famous BBq Chicken Pizza and Mushroom Hoagies.
Great place to hang with friends and family. We even have a sand box for the kids.
Spring and Summer session M-F $63 a player, 8 week sessions and Sunday is 6 week sessions $48 a player. We give out Setters Graphic T-shirts to Winners
Setters Lounge
Before and after your match, you can hang out in the bar with satellite and big screens. Enjoy happy hour pricing early in the evening and take advantage of weekly bar specials. Great food, good friends and a relaxing summer atmosphere, where you can hang out in your flip-flops.
Upcoming Events
Open Play begins 5:00 p.m. Watch the contest winners compete against Kiss 107 members to win. Take advantage of the open courts and get some practice before the leagues begin.
Alright Ladies, find that perfect playing partner and come compete with other teams. Cost is $25 a person; Registration at 9 a.m. Cash Prizes.
Guys, time to team up and enjoy some great competition. Cost $25 a player. Registration: 9:00. Cash Prizes.
It's time to party Setter's Style. $25 a player. Grilled food provided. Be here at 4 p.m.