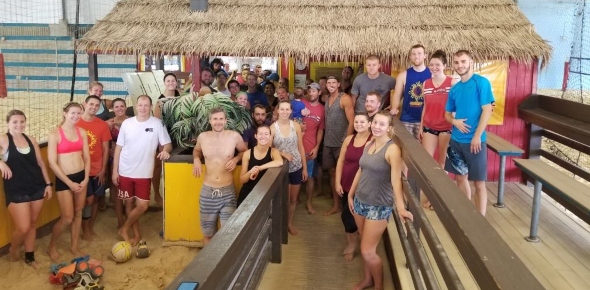 Now featuring indoor courts!
Setters Features
We Offer both Indoor and Outdoor Beach Volleyball All Year!!!!
Setters Cincy on Beechmont Ave. offers Doubles, Quads, and Sixes Sand Volleyball.
We have great daily drink specials! Check them out. $1.50 drafts on Mondays.
Leagues available Monday through Friday and NOW SUNDAYS!
Court Registration available for Adult League Players: $35 for a 2 1/2 hour time period. Available times: Monday - Friday 12-2:30, 2:30 - 5. Saturday 12 - 2:30, 2:30 - 5, 5 - 7:30. Sunday 12:30 - 3:00. Reservations must be made at least 24 hours in advance of the chosen time. Contact (859)801-3952 to reserve.
Try our famous BBq Chicken Pizza and Smothered Mushroom Hoagies.
Contact us for your next event. We offer volleyball and cornhole fundraising opportunities. We have rentals for families, corporate parties, and birthday parties for children. Call 513-238-2113. W
All sessions: $60 a player for 7 week sessions. $65 a player for 8 week sessions; $70 a player for 9 weeks sessions We give out Setters Graphic T-shirts to Winners
Setters Lounge
Before and after your match, you can hang out in the bar with satellite and big screens. Enjoy happy hour pricing early in the evening and take advantage of weekly bar specials. Great food, good friends and a relaxing summer atmosphere, where you can hang out in your flip-flops.
Upcoming Events
Next Saturday night is Halloween! Be here for Halloween Quads Lottery at Setters. Sign up individually and you get put on a team with other ghouls and goofballs. We will have costume judging, so bring out your finest. Categories include Funniest, Scariest, Most Creative, Best Group Effort,Best couple, and Sexiest. Be here around 4:00 (4:30 at the very latest)$25.00 a person and food included