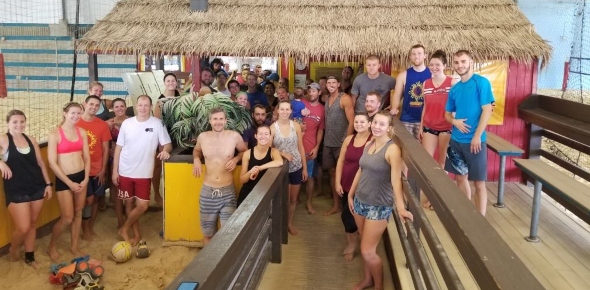 Now featuring indoor courts!
Setters Features
We Offer both Indoor and Outdoor Beach Volleyball All Year!!!!
Setters Cincy on Beechmont Ave. offers Doubles, Quads, and Sixes Sand Volleyball.
We have great daily drink specials! Check them out. $1.50 drafts on Mondays.
Leagues available Monday through Friday and NOW SUNDAYS!
Court Registration available for Adult League Players: $35 for a 2 1/2 hour time period. Available times: Monday - Friday 12-2:30, 2:30 - 5. Saturday available if enough notice given. Sunday 12:30 - 3:00. Reservations must be made at least 24 hours in advance of the chosen time except Saturdays need more notice. Contact (859)801-3952 to reserve.
Try our famous BBq Chicken Pizza and Smothered Mushroom Hoagies.
Contact us for your next event. We offer volleyball and cornhole fundraising opportunities. We have rentals for families, corporate parties, and birthday parties for children. Call 513-238-2113. W
Starting Winter 2 Session 2016: $65 a player for 7 week sessions. $68 a player for 8 week sessions; $73 a player for 9 weeks sessions We give out Setters Graphic T-shirts to Winners
Setters Lounge
Before and after your match, you can hang out in the bar with satellite and big screens. Enjoy happy hour pricing early in the evening and take advantage of weekly bar specials. Great food, good friends and a relaxing summer atmosphere, where you can hang out in your flip-flops.
Upcoming Events
We are excited to announce that Setters is going to now be stop for the EVP tour this winter. There will be 1 level only, mens open and women's open. You can register now on www.evptour.com. Go to the calendar and select this date. Cost is $80 a team.
Start time 7:00. Cost is $10 a person. All money collected goes to first and second place.
With the EVP event on February 27th, we have decided to have a coed doubles BB/A level tournament on Sunday, the 28th. Start time is 9 a.m. Cost is $25 a person. Bring your best coed partner and enjoy some great competition.
Come out showing off your best St. Patrick's day gear and have some fun. Green beer will be served. $25 a person. Food included. 4-4:20 registration.