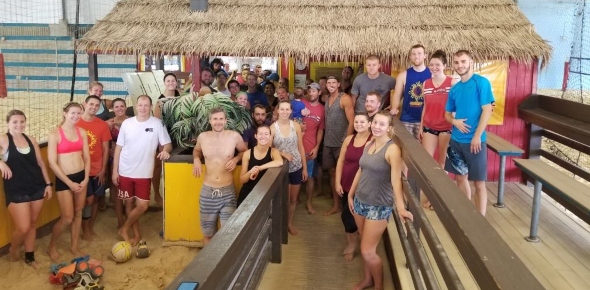 Now featuring indoor courts!
Setters Features
We Offer both Indoor and Outdoor Beach Volleyball All Year!!!!
Setters Cincy on Beechmont Ave. offers Doubles, Quads, and Sixes Sand Volleyball.
We have great daily drink specials! Check them out. $1.50 drafts on Mondays.
Leagues available Monday through Friday and NOW SUNDAYS!
Court Registration available for Adult League Players: $35 for a 2 1/2 hour time period. Available times: Monday - Friday 12-2:30, 2:30 - 5. Saturday 12 - 2:30, 2:30 - 5, 5 - 7:30. Sunday 12:30 - 3:00. Reservations must be made at least 24 hours in advance of the chosen time. Contact (859)801-3952 to reserve.
Try our famous BBq Chicken Pizza and Smothered Mushroom Hoagies.
Contact us for your next event. We offer volleyball and cornhole fundraising opportunities. We have rentals for families, corporate parties, and birthday parties for children. Call 513-238-2113. W
All sessions: $60 a player for 7 week sessions. $65 a player for 8 week sessions; $70 a player for 9 weeks sessions We give out Setters Graphic T-shirts to Winners
Setters Lounge
Before and after your match, you can hang out in the bar with satellite and big screens. Enjoy happy hour pricing early in the evening and take advantage of weekly bar specials. Great food, good friends and a relaxing summer atmosphere, where you can hang out in your flip-flops.
Upcoming Events
Gobble Gobble. Do you feel stuffed? Come out and work it off. We are thankful for Indoor Sand! And we are thankful for our new lights! Bring your Own Partner Quad Lottery $25.00 a person. Bring Your Own Turkey (Partner) with you. Will you be my turkey? Be here by 4:20, at the latest.
Someone gets to take home some Christmas cash. $25.00 entry. Come get toasty with us to celebrate the holiday. This will be our last tourney of 2015, and we will be off for two weeks. Sign up by yourself. Food provided. $1000 for First if we get 90 individual peeps. $600 for 60 people.
$25.00 a person. Come out for a quad lottery and support a great cause, the American heart Association. If you want to play on a team with a friend, just let us know and we can get you signed up together. Cheese Coneys will be provided to snack on. Be here at 4:20. We want to draw teams at 4:30. This is a fun tourney and will be a good tourney to come out and meet people.
Free euchre tourney. Be here at 7:15. We will draw the first round at 7:30 p.m. Prizes and a few t-shirt give-aways. Snacks provided.